Car ride in the Fassa and Fiemme Valley, Trentino
Trentino > Car itineraries in Trentino
Classic tourist itinerary which goes into the heart of the Eastern Dolomites.
From Molveno go down to the Brenner motorway and head north for Egna-Ora (first exit from the motorway. At Ora/Auer take the main road no. 48 for Montagna/Montan, San Lugano and the Fiemme Valley. At 69 km from Molveno is Cavalese, home of the Magnifica Comunità della Valle di Fiemme (the manor house of the centuries-old independent local administration). After another 13 km you come to Predazzo, a starting point for excursions to the Latemar mountain. 9 km after Predazzo (and 91 from Molveno) is Moena (1,184 m.), the gateway to the Fassa Valley. 23 km further on, after Vigo di Fassa, Pozza di Fassa and Pera di Fassa, (detour for the Torri del Vaiolet peaks and the Gardeccia Refuge) you come to Canazei (1,448 m.). After another 12 km (126 km from Molveno) is the Fedaia Pass and the Fedaia reservoir: magnificent views over the Gran Vernel and Marmolada (the "Queen of the Dolomites")
.
For the return journey, if you have not had enough driving, you can climb up to the Sella Pass and across and down into the Gardena Valley through the villages of Selva/Wolkenstein, Santa Cristina/St. Christina and Ortisei/St. Ulrich. Here a detour to the Sciliar/Schlern tableland (Alpe di Siusi/Seiser Alm), Fiè/Völs and Castelrotto/Kastelruth is highly recommended, bringing you out into the valley at Prato Isarco/Blumau, just north of Bolzano/Bozen on the Brenner main road. Return to San Michele by motorway and then to Molveno.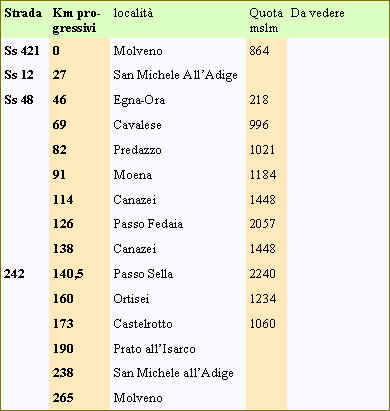 scattered pictures of the Val di Fassa and Val Gardena